Guest Speakers
Celebrated leaders and veterans in the sports industry as well as sports promoters, nutritionists and psychologists are being invited as keynote speakers and to conduct various sports clinics. Confirmed speakers include:
Dr Trisha Leahy, PhD
Mr Aaron Smith
Mr Charles Chu
Mr Michael Kan
Ms Susan Chung
Chief Executive
Hong Kong Sports Institute
Topic: Psychology of Sports Excellence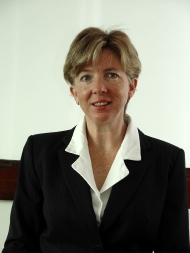 Trisha Leahy (PhD) is the Chief Executive of the Hong Kong Sports Institute which is the Government's delivery agent for elite sport in Hong Kong.
Trisha has also previously worked as Senior Psychologist at the Australian Institute of Sport where she worked with many of Australia's elite athletes including the Australian Olympic Sailing Team, at the 2000 Sydney Olympics. Prior to that, she was the Unit Head of the Sport Psychology Unit at the Hong Kong Sports Institute, where she provided psychological services to national team athletes including the Hong Kong Sailing Team at the 1996 Atlanta Olympics.
With over 30 articles published in international academic and professional publications and numerous keynote and invitational presentations Dr Leahy is a n internationally recognized expert in elite sports systems. Her research interests include gender issues in elite sport , the prevention of abuse in sport and career transitions for athletes. She is an invited member of the International Olympic (IOC) Medical Commission's special task force on prevention of abuse in sport. She is also an invited member of a UNICEF expert panel advising on global policy and research in preventing violence in sport.
Locally Trisha is extensively involved in Community work, serving at various times in the past few years as advisor to the Hong Kong Council of Social Services, Caritas and the Rain Lilly Rape Crisis Centre. She is a Past President of the Hong Kong Psychological Society.
Physiotherapy Manager
sportsperformance Ltd
Topic: Overuse Injuries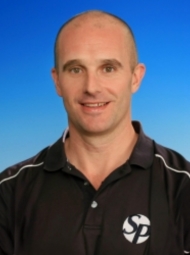 Aaron Smith graduated from the Hong Kong Polytechnic University in 1996. He worked for three years in the public health systems in Hong Kong and England, returning to Hong Kong in 2000 to enter private practice. He completed a PgD in Sports Medicine and Health Science at the Chinese University of Hong Kong in 2005.
From 2000 to 2004, he worked for a large private health care group as physiotherapist-in-charge of a clinic providing physiotherapy services to corporate and individual clients, before taking up his post at sportsperformance in December 2004.
Aaron has extensive sports physiotherapy experience covering a wide variety of sports including rugby, football, cricket, hockey, golf, triathlon, tennis and adventure racing. He has travelled as team physiotherapist with national teams to Singapore and Canada, and has worked to a high level with professional athletes in Hong Kong and overseas. He is currently team physiotherapist for the Hong Kong National Rugby Squad and for Kowloon RFC in the Hong Kong First Division.
Aaron is a qualified Clinical Pilates instructor and an NASM certified personal trainer, a licensed coach of the Football Association of England and an advanced swimming teacher with the Amateur Swimming Association.
He is a keen sportsman, playing amateur football, and represented his university from 1993-95.
Aaron is the physiotherapy manager of sportsperformance and is in charge of the day-to-day running of the clinic. His main interest is in post-injury and post-surgical exercise rehabilitation, to accelerate and optimise return to sport.
Head (Competitive Events)
2009 East Asian Games (Hong Kong) Limited
Topic: Preparation for the East Asian Games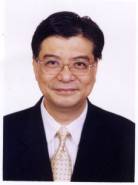 Charles Chu is the Head of Competition Events Division of 2009 East Asian Games (Hong Kong) Limited. Prior to joining the present organization, he has held various positions in the field of recreation and sports in the HKSAR Government. His last posting with HKSAR Government was the Chief Leisure Manager (Sport Policy Review).
<![if !supportEmptyParas]> <![endif]> Charles Chu received his Master of Science in Sport Sociology and Sport Management from the University of Leicester in the United Kingdom. He is currently appointed by the School of Continuing and Professional Education of the Hong Kong Institute of Education as an Adjunct Associate Professor and as an Honorary Professional Consultant of the Chinese University of Hong Kong.
Curriculum Development Officer
Physical Education Section
Education Bureau
Topic: Latest Development of PE Curriculum in Hong Kong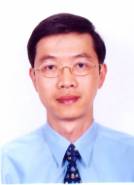 Mr KAN received his teacher training at Northcote and Grantham Colleges of Education. He then gained his Bachelor of Education and Master of Education at the University of Liverpool and University of Hong Kong respectively.
Mr KAN has been serving in the education sector for a good number of years. He worked for the Immaculate Heart of Mary College as the PE Panel Chairman for six years and for the City University of Hong Kong as a PE instructor for seven years. He has joined the Education Bureau as a Curriculum Development Officer for nearly ten years and his current duties include tasks of New Senior Secondary PE Curriculum.
Sport Nutritionist
Hong Kong Sports Institute
Topic: Nutrition for Active Adolescent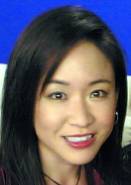 Ms Susan Chung is the Sport Nutritionist of the Hong Kong Sports Institute. She is a Registered Dietitian (British Columbia, Canada), Registered Chinese Medicine Practitioner (Hong Kong) and obtained Master of Health Science (Human Nutrition) in Australia. She is currently finishing her PhD at Guangzhou University of Traditional Chinese Medicine.
Her work at the institute includes nutrition counseling, monitoring athletes' foodservice, developing educational materials and conducting applied nutrition research. Recent research publications were Nutritional Profile of Hong Kong Adolescent Athletes, Dietary Intake of Hong Kong Male Road Cyclists During a Multistage Event.
In addition, Ms Chung is also a part-time lecturer of nutrition courses at the CUHK School of Continuing and Professional Studies and HKU School of Professional and Continuing Education. Ms Chung has also written a number of books on nutrition and health issues like diabetes mellitus, vegetarian, heart health and fitness, etc.
(information will be updated from time to time)