Round Square at SPCC
St. Paul's Co-educational College, as the first Round Square School in Hong Kong since 2010, is committed to fostering students' all-round development and equipping them with the attributes stated in the SPCC Student Profile which is closely aligned with the Round Square IDEALS.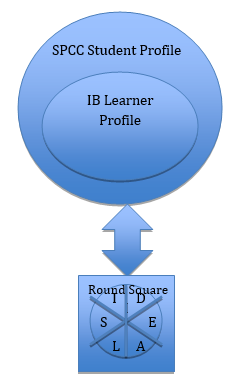 We encourage students to actively participate in a broad spectrum of activities including international exchanges, outdoor education programmes, and community service projects.
Our goal is to prepare young people for life beyond the classroom by instilling in them a strong commitment to personal growth and responsibility and nurturing them into confident individuals, lifelong learners and responsible global citizens.

Internationalism
First Model United Nations Experience ~ Jasmine Lee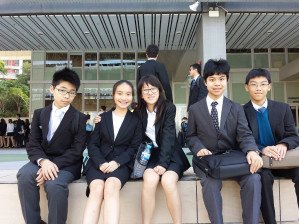 Model United Nations is a simulation of the actual United Nations designed for students to have a taste of international politics and actively engage themselves in discussing global issues. Hong Kong Junior Model United Nations hosted by Victoria Shanghai Academy (HKJMUN) was my first official MUN conference and an extremely valuable experience.
Although it was confusing at first, I finally familiarized myself with the complicated formal procedures. The delegates in the Security Council were quite competitive, keeping the debate fruitful and interesting. We discussed foreign fighters and civilians in conflict. Since I was in the delegation of Lithuania, I had the opportunity to gain some first-hand experience of being a delegate without having to be a major country leading the discussion. In the Security Council, we strived to discover measures to assist civilians in conflict areas, such as providing humanitarian aid and sending UN peacekeeping troops. I learnt a lot more through debating about international issues with other delegates.
In the General Assembly, we were able to experience how a real huge conference would be like. As there were many delegations, we didn't have as many chances to speak as we had in the Security Council, but it was quite an experience debating the emergency topic about how to tackle Ebola with other delegates.
Participating as a delegate in HKJMUN has given me the chance to look at international issues from the perspectives of different countries. I am grateful to be able to participate in this MUN conference and I look forward to attending others in the future.

Democracy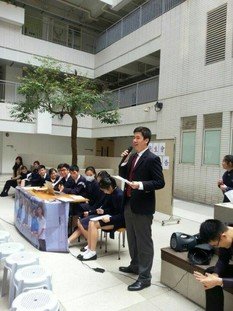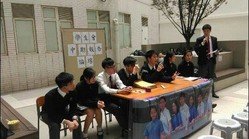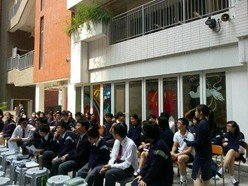 The work of the Student Union ~ Crystal Wu
As the largest fully elected student body at SPCC, the Student Union believes that the pillars in the Round Square IDEALS play an important role in students' personal development. Among all, "Democracy" is one of the principles that St. Paulians value the most. Therefore, we have provided many ways for students to exercise their rights and freedom in a democratic environment to develop their community-mindedness.
At the beginning of the term, an open forum was held to collect feedback from our schoolmates about the future plans of the Student Union. After the forum, not only could we know more about the opinions of schoolmates, but we were also able to make necessary changes in our year plan to cater to their needs.
The Student Union encourages students to convey their views to us through various means, for instance, eClass emails, Facebook messages and our featured Opinion Programme. We also have meetings with the Class Representatives in all forms on a regular basis. Every opinion is valued and the stakeholders will be informed if an issue involves more than one party.
We strive to act as a bridge between the school and students. We believe that only through constant communication and mutual respect can democracy be achieved.

Environmental Stewardship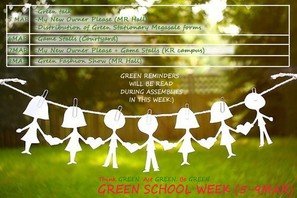 Environmental Protection Club —A path to greener world ~ Yan Chan
"A true conservationist is a man who knows that the world is not given by his father, but borrowed from his children.' –John James Audubon (1785-1851)
Protecting the environment is definitely an important affair in our everyday lives; and in a community like St. Paul's, effectively managing environmental protection issues is a rising concern. With slightly more than 1200 students, the collective carbon footprint, water usage and domestic waste produced daily on campus is quite significant. Thus, it is imperative to foster environmental awareness among students and encourage them to take an active role in environmental conservation.
The Environmental Protection Club (EPC) is the main body responsible for the promotion of a green school campus. Every year, the committee members initiate activities, introduce campaigns and implement schemes. These events include but are not limited to: the collection of reusable materials e.g. mooncake boxes, the placement of recycling bins, environmental design competitions, and Environmental Protection Day. The aim is to instill environmental awareness among students through a wide range of activities.
Despite the efforts made by the school and the EPC, the overall standard of eco-friendliness of students still needs to be improved. It has been observed that some students are oblivious to the excessive use of air-conditioning, waste of food, and paper resources, causing harmful yet avoidable impacts on the environment. Hence, environmental stewardship, which is characterized by an active involvement in the mitigation of harms done to our Earth, has to be reinforced at SPCC.
SPCC and EPC will continue to promote environmental awareness among students. Practising environmentally sustainable habits should not only be a short-term goal, but a lifelong pursuit. After all, it is of utmost importance to educate the young about the importance of conserving our Earth, in order to achieve a world of balance, sustainability, and peace.

Adventure
Girl Guides' Adventurous Camp ~ Able Wan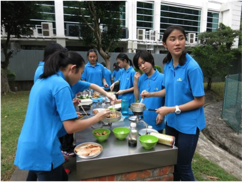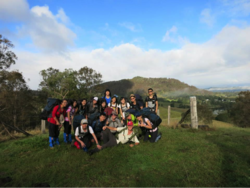 The Girl Guides always engage in adventure training activities. One of the most exciting events is our annual camping trip.
This year, we organized a two-day-one-night camp in Pok Hong. We were to set up tents, shelters and working tables, which requires various knotting techniques as well as good cooperation among the Guides. Although the process was not as smooth as we expected, we finally accomplished the tasks through collaboration.
Cooking outdoors presented another challenge as it is a completely different experience from cooking in the kitchen. We were only allowed to bring with us crude cooking utensils. Also, since our raw ingredients are always kept simple to avoid carrying bulky backpacks, we were left with insufficient food this time. Luckily, we overcame the problems in the end and this enhanced our problem-solving skills.
In this adventure, we had to face obstacles, take risks and keep up our strong will. Through this valuable experience, we have learned to be more courageous and be better team players.

Leadership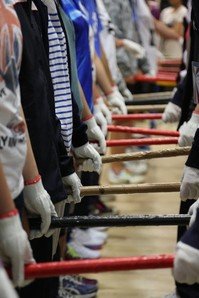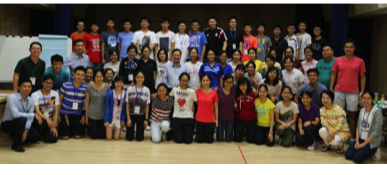 Alumni school tour—A lesson for leadership ~ Natalie Fung
"Classmates, everyone, please be quiet!" bellowed Professor Tang, an alumnus of SPCC back in 1964, towards her other classmates back then.
Silence.
And it was show time for us to lead the jaunty groups of alumni on a school tour on their fiftieth anniversary since their graduation. Venturing into the library, tunneling into the hall, exploring the Indoor Games Hall and simply savouring every bit of the school campus, we, the prefects, introduced our school premises to the alumni, who were immersed in profound reminiscence about their school life half a century ago, to the best of our knowledge.
No matter how steep the stairs or how narrow the corridors might be, the reunited classmates, as pleased as punch, overwhelmed us with all sorts of questions, ranging from school facilities, teaching and learning to the current educational curriculum. As school leaders, not only did we show a thorough understanding of the issues, but we were also sensitive to the needs of the alumni. We adjusted the walking routes to avoid climbing too many stairs and we repeated our words from time to time to ensure all members of the group could hear us.
To me, the ushering of the alumni is a metaphor of leadership. Our alumni-friendly strategies might not be significant, but we believe that effective leaders should be sensitive to other people's wants and needs – be they profound or trivial.

Service
Community Service Group ~ Wincy Yim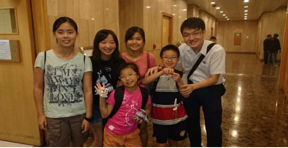 Last year, our school achieved a total of 1605 volunteer service hours according to the Volunteer Movement records.
The Volunteer Movement aims at encouraging students to initiate their own volunteer work to serve different target groups in our community. Numerous volunteer activities such as the EQ Ambassador Programme, Michaelmas Fair, UNICEF Young Envoys are organized every year.
The EQ Ambassador Programme is one of the most rewarding programmes offered to students. It requires students to come up with comprehensive activity plans for the bereaved children. Whilst it is generally believed that the bereaved children are pessimistic and distressed, it surprised me that some of them were able to cope with the loss of their family members in a very mature manner. They appeared to be no different from any ordinary children after our first face-to-face encounter.
Through this programme, not only have we learnt to be more understanding and caring towards the needs of the bereaved children, we have also become more mature, assertive and courageous.
The experience reminds me of St. Francis of Assisi's saying: "Remember that when you leave this earth, you can take with you nothing that you have received - only what you have given: a full heart, enriched by honest service, love, sacrifice and courage."