Welcoming Students from Overseas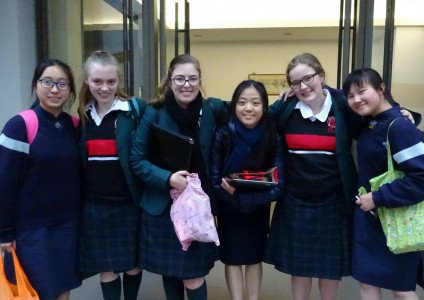 With ever increasing pace of globalisation and importance of international perspectives, we understand that more and more students in Asian countries are seeking overseas education opportunities in worldwide destinations at pre-university stage. Hong Kong, Asia's world city, has been widely regarded as a springboard for further tertiary education both locally and globally.
Founded by the Sheng Kung Hui (Anglican Church) in 1915, St. Paul's Co-educational College (SPCC) has long been recognised for academic excellence. We take pride in nurturing successful future leaders for our community. Our graduating classes habitually have 100% entry to bachelor's degree courses in Hong Kong and around the world. Overseas universities that have accepted SPCC students in recent years include Cambridge, Imperial College, LSE, Oxford, UCL and University of Edinburgh in the UK; Brown, Carnegie Mellon, Columbia, Cornell, Duke, Georgetown, Johns Hopkins, MIT, Northwestern, Princeton, Stanford, UCLA, UC Berkeley, University of Chicago, UPenn and Yale in the USA.
We are an authorised IB World School and we offer the IB Diploma Programme (IBDP) in tandem with the local DSE curriculum (Diploma of Secondary Education) to meet our students' different modes of learning and different career aspirations.
Please click here for our School Profile
To add to the international dimension of the student body, we invite eligible studentsfrom overseas and mainland China to study in our senior forms. F3 (Year 9) students can opt for entry to our F4 local DSE curriculum or the F4 Preparatory Year (for IBDP), while F4 (Year 10) students can apply for Year 1 of our IB Diploma Programme.
Application
Please send in your Application Letter stating your intended course, year and subjects, together with your school reports in the past two years. Email it to admissions@spcc.edu.hk, send it by fax to (852) 2877 0442 or by post to St. Paul's Co-educational College, 33 MacDonnell Road, Central, Hong Kong.
Click here for Alternative Chinese Language qualifications required for the admission of non-Chinese speaking students to UGC-funded institutions under JUPAS [applicable to DSE applicants]
NOTE: APPLICANTS AND PARENTS ARE REMINDED NOT TO OFFER ANY ADVANTAGES TO SCHOOL STAFF IN CONNECTION WITH THEIR APPLICATIONS.