Mentor Programme
How It Works | Our Mentors | Group Activities | The Committee | Becoming a Mentor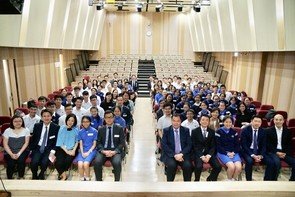 Welcome to the SPCC Mentor Programme, where participating Form 5 students are paired with SPCC alumni to develop one-on-one "counselor and friend" relationships.
Through individual mentoring as well as tailored group activities, we hope to help students broaden their perspectives, develop their potential and achieve their academic and career aspirations as they prepare for life beyond SPCC.
Now in its 22nd year, the Programme has an annual intake of over 110 new Form 5 students as mentees and has built up a resource pool of over 180 alumni mentors.
Our Mentors - a Rich Pool of Resource
Our pool of mentors range from business executives to young entrepreneurs, from seasoned professionals to established academics, as well as civil servants in a variety of fields. We are also targeting younger alumni at earlier stages of their careers to join the pool.

An approximate percentage breakdown of our mentors by background / sector is as follows:
*Others include: Actuarial Science(1), Advertising(3), Aviation(1), Building Surveying(1), Communications(1), Data Science(1), Dentistry(1), Education(3), Government(1), HR Management(2), IT(3), Journalism(1), Marketing(3), Music(1), Pharmacy(1), Property(2), Psychology(1), Science(1), Social Work(1), Speech Therapy(1), Vet(1)
Group Activities in 2022-2023 Academic Year
| | |
| --- | --- |
| (tbc) | Kick-off Ceremony |
| (tbc) | Careers Day |
| (tbc) | Interview Skills Workshop |
| (tbc) | Company Visits |
| 27 Apr 2023 | College Fair (tentative) |
| (tbc) | Closing Ceremony |
The Mentor Programme Committee
Accountable to the School Council and with Mr Poon Siu Chi as Adviser, the Mentor Programme Committee plans and manages the operation of the Programme. Key responsibilities include recruitment of new mentors and mentees, organizing activities, monitoring programme effectiveness and enhancing the services of the Programme to best address the ever-changing needs of the mentees. Committee members are all SPCC alumni and serve a three-year term.
The 2021-2022 Committee
| | | | |
| --- | --- | --- | --- |
| Supervisor | Mr Poon Siu Chi | | |
| Liaison Teacher | Mr Fung Siu Kei | Ms Christy Liang | |
| Co-Chairman | Ms Christina Gaw | Prof Ivan Hung | |
| Members | Ms Rita Chan | Mr Harold Wong | Ms Winnie Leung |
| | Mr Ferdinand Cheuk | Mr Henry Pang | Mr Ronald Kwok |
| | Mr Brian Wong | Ms Caroline Ma | Dr Jennifer Shum |
| Associate Members | Ms Samanta Pong | Dr Lirraine Kwan | |
| Secretary | Ms Emily Tong | | |
Become a Mentor Today!
If you are an SPCC alumni residing in Hong Kong and would like to share your experience and insights with the younger generation at SPCC, please sign up here. We welcome alumni of all ages, and in particular recent university graduates! Upon your expression of interest, you will be contacted by the Mentor Programme Committee.