International Music Conference 2019
Side-by-side with London Mozart Players

ABOUT THE CONFERENCE
With the objective to foster learning and sharing of ideas among peers and professionals from around the world, St. Paul's Co-educational College has organized nine international conferences in the fields of science and environmental studies, sports and music since 2006. The spotlight of the 10th edition will shine squarely and brightly on the performing stage again as the College partners with the renowned chamber orchestra from the United Kingdom, London Mozart Players for the International Music Conference 2019.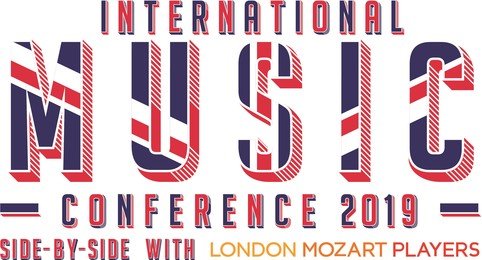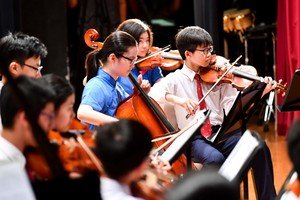 St. Paul's Co-educational College
St. Paul's Co-educational College
In the Christian spirit of Faith, Hope and Love, SPCC sets out to nurture students as future leaders. It seeks to provide them with the best opportunities for learning and personal development and helps them broaden their horizons, realise their potential and develop positive values and attitudes through a wide range of educational programmes. SPCC enjoys a long and rich musical tradition; where in recent years, various music groups from the school have toured the Australia, China, Vietnam, South Korea, Germany, Austria, Latvia and South Africa.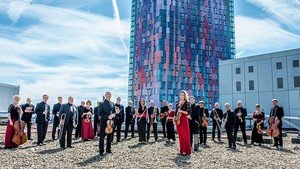 London Mozart Players
London Mozart Players

Celebrating its 70th Anniversary this season and founded by Harry Blech in 1949 as the UK's first chamber orchestra, LMP has achieved international renown for its outstanding live performances and CD recordings of the core Classical repertoire. In addition to the regular offerings of concerts and recordings, LMP has been committed to providing a platform for sharing the creative arts with schools and communities for over 25 years. LMP Voyager is an education and community hub which allows music to inspire, educate & enrich communities through an extensive programme of work across the UK and abroad.
PROGRAMME OVERVIEW
The conference will bring together up to 40 talented orchestral players internationally to work intensively with 12 principal members of the London Mozart Players over a 4-day residency. They will work towards a public performance at the culmination of the conference, performing side-by-side with the professional musicians. In addition, sessions will also be devoted to studying the life and work of the composer as well as other dimensions and aspects of the chosen repertoire.
---
Warren Lee, Music Director, SPCC | Anton Luiten, Head of Music Department, SPCC | From the LMP: Simon Blendis, violin | Sijie Chen, violin | Sophie Renshaw, viola | Julia Descruslais, cello | Cathy Elliot, double bass | Thomas Hancox, flute | Christopher O'Neal, oboe | Marie Lloyd, clarinet | Chris Rawley, bassoon | Paul Archibald, trumpet | Martin Grainger, horn | Sarah Hatch, timpani and percussion
Beethoven Symphony No.7 in A major, Op.92 (complete)
[Instrumentation: 2 flutes, 2 oboes, 2 clarinets, 2 bassoons, 2 trumpets, 2 horns, timpani, strings]
Part score will be sent to the participants well ahead of time and they are expected to come to the conference well-prepared on their own part, ready for intensive coaching and performance in four days' time.
28 April (Sun)

Welcome Session

Full and Sectional Rehearsals with LMP

Preparation for Pre-concert Talk

29 April (Mon)

Opening Ceremony at Morning Assembly

Full and Sectional Rehearsals with LMP

Preparation for Pre-concert Talk

30 April (Tue)

Sectional Rehearsal / Individual Coaching with LMP

Workshop: Beethoven's Life and Work

7:30pm Faculty Chamber Concert

1 May (Wed)

Dress Rehearsal

3:00pm Gala Concert

Gala Dinner
The public concerts on 30 April and 1 May will take place at
the Hong Kong Academy for Performing Arts Jockey Club Amphitheatre.
In order to foster greater peer learning and sharing, all conference participants will stay in the Chong Yau Pak Wan Residence Hall on campus on 33 MacDonnell Road, Hong Kong for the duration of the conference. For details about the residence hall, please visit our school website.
Secondary school students who play an orchestra instrument (as required in the chosen Beethoven symphony) to an advanced level and who have considerable experience in orchestral playing are invited to apply by completing the application form. An audition by video is required (see application form for requirements). The application deadline is 31 October 2018; successful applicants will be notified by 30 November 2018.
All admitted applicants shall receive tuition scholarships as sponsored by the Council of St. Paul's Co-educational College. The conference fee is HK$1,980 inclusive of 3 nights of accommodation, transportation and all meals during the conference. International participants are responsible for their own international travel. Additional nights immediately before or after the conference may be requested at additional costs.
For enquiry, please contact Mr. Eric Ho from the Community Relations Office at St. Paul's Co-educational College at imc2019@spcc.edu.hk.
St. Paul's Co-educational College | www.spcc.edu.hk
London Mozart Players | www.londonmozartplayers.com